President Biden wants Congress to enact a federal ban on "assault weapons and high-capacity magazines" just like the one he helped pass in 1994.
Biden said on Twitter Wednesday evening that he was "determined" to see through such a ban and called on Congress to "finish the job."
"I am determined to once again ban assault weapons and high-capacity magazines," the president wrote. "I led that fight in 1994. For the ten years it was in place, mass shootings went down."
He added: "Let's finish the job and ban assault weapons."
SENATE REPUBLICANS INTRODUCE BILL CODIFYING RIGHT TO BEAR ARMS 'OUTSIDE YOUR HOME'
Biden's tweet referenced the 1994 law that enacted a 10-year ban on the manufacture, transfer or possession of "semiautomatic assault weapons" (SAWs) and "large capacity ammunition feeding devices" (LCAFD). It formally expired on Sept. 13, 2004.
Biden has renewed his call for a ban on "assault weapons" — an often vague term he and other Democrats have used mostly in reference to the AR-15 — in the wake of several mass shootings this year.
His most recent call to action followed a visit to the area of a mass shooting at a dance studio in Monterey Park, California, where 11 people were killed in January. Investigators said the shooter, who later died by suicide, had carried a modified 9-millimeter MAC-10 – generally illegal under state law, the Los Angeles Times reported – and they also found a Norinco 7.62 x 25 semiautomatic handgun near his body.
"Do something. Do something big," Biden urged Congress on Tuesday while visiting the suburban Los Angeles community. "I'm determined to ban assault weapons and high-capacity magazines."
The president also signed an executive order aimed at stiffening background checks to buy guns.
"Let's be clear, none of this absolves Congress from the responsibility of acting to pass universal background checks, to eliminate gun manufacturers' immunity from liability," Biden said at the time.
Biden's push for the weapons ban has remained controversial.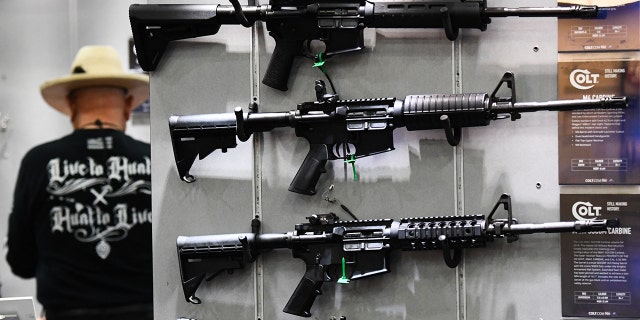 A point of contention with the 1994 law and current efforts is that the 1994 law included specific make and models of the weapons it sought to ban, which included the Colt AR-15 among others, and other specifications for what qualified a "semiautomatic assault weapons."
Per the law, a rifle was considered a semiautomatic assault weapon (SAW) if it was able to accept a detachable magazine and additionally included at least two of the following features: "(1) a folding/telescoping stock; (2) a protruding pistol grip; (3) a bayonet mount; (4) a muzzle flash suppressor or threaded barrel capable of accepting such a device; or (5) a grenade launcher."
Similar definitions in the 1994 ban were extended to pistols and shotguns. And, the law was upheld by federal courts.
Biden has not used this specific language, at least publicly.
Biden's focus on rifles and the AR-15 also came as the National Institute of Justice (NIJ), which operates under the Department of Justice, reported most mass shootings did not involve such weapons.
"Most individuals who engaged in mass shootings used handguns (77.2%), and 25.1% used assault rifles in the commission of their crimes," NIJ reported in February 2022.
BIDEN ANNOUNCES ORDER TO EXPAND BACKGROUND CHECKS
Also, according to NIJ, most of the guns used in the shootings were legally purchased.
"Of the known mass shooting cases (32.5% of cases could not be confirmed), 77% of those who engaged in mass shootings purchased at least some of their guns legally, while illegal purchases were made by 13% of those committing mass shootings," NIJ reported. "In cases involving K-12 school shootings, over 80% of individuals who engaged in shootings stole guns from family members."
In Biden's tweet Wednesday, he also blamed Republican lawmakers for letting the 1994 law expire and said, as a result, "mass shootings tripled."
According to the data from the Congressional Research Service (CRS), a nonpartisan group that provides extensively researched reports to lawmakers so that can enact federal policy, the use of "mass shooting" can vary greatly depending on the definition used.
Following the shooting at Sandy Hook Elementary School in Connecticut on Dec. 14, 2012, Congress defined "mass killings" as "three or more killings in a single incident." Gun Violence Archive, an independent data collection and research group that records gun violence, defines a "mass shooting" as a shooting incident in which a "minimum of four victims shot, either injured or killed."
ILLINOIS REGULATORY BODY SEEKS LEGISLATIVE ASSISTANCE IN CONCEALED CARRY CONTROVERSY
Other agencies that collect data on mass killing incidents include all weapon attacks, not just firearms, and can include setting fire to an area, a knife or a vehicle. These definitions generally include gang-related crime incidents.
Between 1997 and 2020, CRS identified 729 quadruple or greater homicide incidents or an average of 30 per year.
"In any given year, between two-thirds and three-quarters of all criminal homicides in the United States are committed with firearms. About one-half of those homicides are committed with handguns," according to a CRS report updated on Aug. 4, 2022.
The 1994 law's impact on violent crime as a whole also has been widely debated.
The 1994 ban also gave the Justice Department 18 months to survey its impact on violent crime and compiled information based on trace data collected from the Bureau of Alcohol, Tobacco, Firearms and Explosives National Tracing Center (ATF NTC). Trace data included "tracing the chain of commerce for selected firearms (by make and model) recovered by law enforcement agencies that are often, but not always, crime guns."
Proponents of the law said this data could be used accurately to determine which guns were used in mass shootings and other crimes, while critics said the measure has been unreliable in providing an accurate figure on gun statistics.
A report on the Semiautomatic Assault Weapons Ban found: "Researchers estimated that the ban possibly contributed to a 6.7% decrease in total gun murders, or a 27% decrease in assault weapon/large capacity feeding device-related crime, between 1994 and 1995."
While the ATF has ramped up its methods to collect trace data, CRS reported in 1992 that "most firearms that are traced have not been used to commit violent crimes, and most firearms used to commit violent crimes are not traced."
CRS researcher William J. Krouse, also a specialist in domestic security and crime policy, ultimately concluded the general ambiguity in defining an "assault weapon" and in the methodology of collecting data around which guns are used in which crimes across the country leads to inconclusive results.
"Until more definitive data are available, Congress faces exercise of its collective value judgment on the lethality and relative dangers posed to society by these firearms versus the diminution of the freedom to bear arms as set out in the Constitution," he wrote.
BIDEN PUNISHING ALL US WITH GUN CONTROL, WHILE 'HIS OWN' LIBERAL CITIES ARE PLAGUED BY CRIME: CRITICS
In the wake of mass shootings across the country, congressional Republicans repeatedly have called for increased attention to mental health and to make services providing care more available. They have also called for more strict criminal justice initiatives that would keep criminals and repeat offenders behind bars.
According to the NIJ, most mass shooters are individuals who "had a prior criminal record (64.5%) and a history of violence (62.8%), including domestic violence (27.9%)."
The report added: "Persons who committed public mass shootings in the U.S. over the last half century were commonly troubled by personal trauma before their shooting incidents, nearly always in a state of crisis at the time, and, in most cases, engaged in leaking their plans before opening fire."
President Biden also has called for Congress to pass "red flag" laws, so citizens could report family members or others in their community they suspect could carry out a mass killing.
CLICK HERE TO GET THE FOX NEWS APP
"So more parents, teachers and counselors know how to flag for the court that someone is exhibiting violent tendencies, or experiencing suicidal thoughts that make them a danger to themselves and others," Biden said Tuesday.
Any action Biden hopes Congress will take faces an uphill battle as Republicans and Democrats each control one chamber.
The Associated Press contributed to this report.