World-renowned UFC fighter Conor McGregor honored America's fallen first responders Wednesday with a $1 million check to Tunnel to Towers Foundation CEO Frank Siller in front of a live studio audience on "Hannity."
"As human beings, it's a must to give back," McGregor said. "I work to give back. I work to support my family, and, you know, this is what we must deal with. If people want to help donate to this great foundation, Tunnel to Towers, you can also, we'd appreciate that greatly."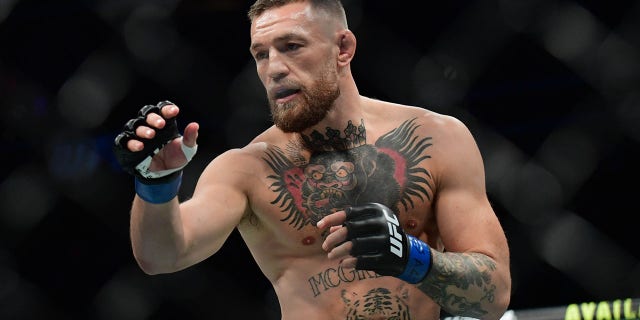 McGregor, who previously donated nearly $4 million to the foundation, told Sean Hannity that life is about "giving back."
Hannity announced to his studio audience that he will join McGregor by writing a check for $100,000 to the Tunnel to Towers Foundation. 
Tunnel to Towers Foundation is a nonprofit that honors FDNY firefighter Stephen Siller, who sacrificed his life to save others on Sept. 11, 2001. 
The foundation's mission honors the legacy of American heroes by paying off mortgages for injured veterans, first responders and their families, as well as Gold Star families across the country. 
Tunnel to Towers chairman and CEO Frank Siller told Hannity and McGregor that Buffalo, New York, firefighter Jason Arno recently died in a fire and left behind his wife, Sarah, and daughter, Olivia. 
TUNNEL TO TOWERS MARKS FOX NEWS' 25TH ANNIVERSARY BY PAYING 50 MORTGAGES FOR HEROES' FAMILIES
Siller told "Hannity" that the foundation will commit to paying off the family's mortgage.
"You should know that this money that you gave us and the viewers that have helped us for years, this is how we pay off these mortgages," he said.