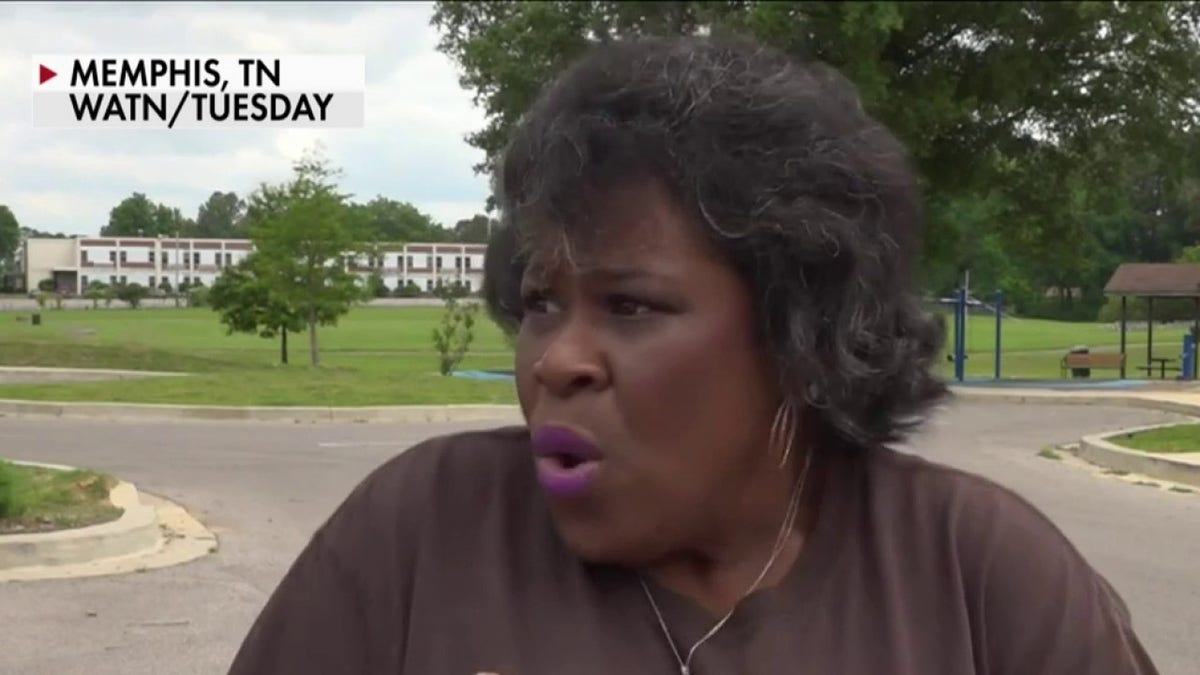 A drive-by shooting in Memphis derailed an interview with a Democratic city council candidate, sending both her and the interviewer to the ground as the shocking moment was all caught on camera. 
Whitehaven community leader Yolanda Cooper-Sutton sprang into action as soon as shots rang out, falling to the ground to seek cover and calling on her interviewer to do the same. She joined "Fox & Friends First" Thursday to recount the chilling incident and how her instinct took over in the critical moment. 
"I got a call to do an interview that they wanted us to talk about the crime and the gun crime and the solutions that are now arising with the citizens and with the current administration and what my thoughts were around it," Cooper-Sutton told Todd Piro Thursday. "I had no idea that we would be in the middle of an actual drive-by shooting."
MEMPHIS POLICE NAB FIRST OF 3 WANTED IN NIGHTCLUB SHOOTING THAT KILLED 1, WOUNDED 10 OTHERS
"In that moment, I knew that it was gunshots, and I knew that it was immediately to get down because a moving target is a hit target every time and not sure where the bullets were coming from, but I knew there were bullets, and my instinct immediately was to hit the ground, and I did," she said. 
The drive-by shooting took place near a playground on Tuesday. Cooper-Sutton was spelling her name on camera for the interview when gunfire erupted. She immediately dropped to the ground. 
"Get down. Just stay down and get down. It's okay. Thank you, Lord Jesus. Just stay down and get down," she said to the individual she was with. 
"Thank you for the blood of Jesus that covers us. Thank you, Father, for the blood of Jesus. Thank you, Lord," she continued. "All right, we should be alright."
MEMPHIS POLICE SEEK PERSONS OF INTEREST IN SHOOTING THAT LEFT 1 DEAD, 10 OTHERS WOUNDED
Cooper-Sutton said it was just "instinct" to know to duck and cover, calmly, in hopes of avoiding gunshots.  
"This is something very common around Memphis," she said. "You can be riding down the highway, the interstate, anywhere, and gunshots. I really can't tell you. I just know, in that moment, and you play this moment over and over and over again in your head, because we do live in the city like we do right now, and the increase in gun violence and the drive-bys, at any moment, anything can happen."
"You prepare yourself mentally. Should we be in that act or ready to be in that mode? No, but this is where we are right now," she continued. 
According to the Crime Commission, a non-profit dedicated to ensuring public safety, the overall crime rate in Shelby County has surged more than 17% this year compared to last year. 
CLICK HERE TO GET THE FOX NEWS APP
This comes as major violent crime has spiked 5.4% and major property crimes have surged 42.1%. 
Even despite surging violence, Cooper-Sutton said she knew they would be okay as long as she leaned on her faith. She said she "leaned" on God for "every breath" during the horrifying incident.
"I knew if I called on the name of the Lord that we would be okay, and that was my faith. No matter what the situation was or what the circumstance and what was going on at that time, I knew that when I called on that great name, our Lord Jesus Christ, we would be okay."