Two weeks after the pandemic-era Title 42 border restrictions ended, President Biden received his lowest marks to date on border safety with six in 10 American voters preferring the limits had remained. 
In addition, just over half (51%) of registered voters in a new Fox News survey say security at the border has gotten worse in the past two years, while only 11% think it has gotten better. 
In June 2018, 17% felt the border situation was worsening while 28% thought it was getting better.
Another 37% say border security is about the same (down from 50% in 2018).
MEXICAN PRESIDENT RAMPS UP ANTI-REPUBLICAN RHETORIC, URGES HISPANICS NOT TO GIVE DESANTIS 'ANY VOTES'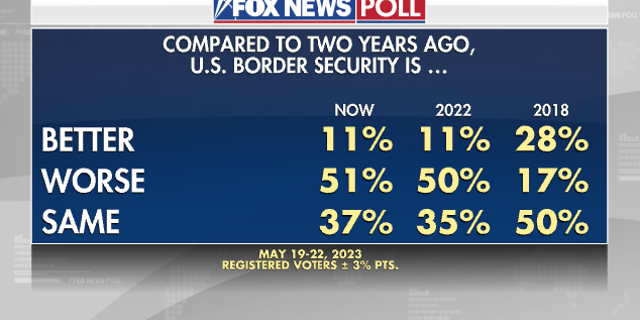 Negative views of border security are up across the board, but especially among Republicans: 82% say border security is worse now compared to 6% who felt that way in 2018. There are also substantial shifts among independents (52% say it's worse now compared to 15% in 2018) and Hispanic voters (49% vs. 19%).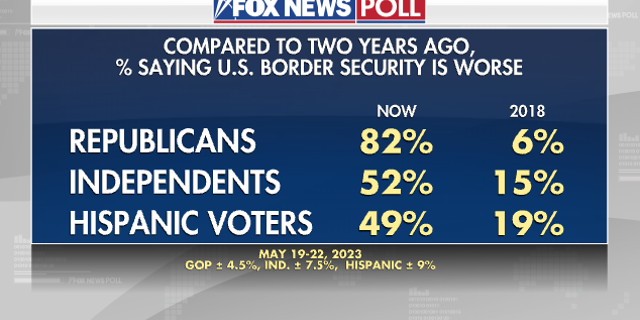 Six in 10 (61%) say Title 42, which ended May 11, should have been left in place. 
But 35% think it was the right move to let the restrictions end, up from 27% in May 2022.
BIDEN'S OPEN BORDER IS BANKROLLING ORGANIZED CRIME, CARTELS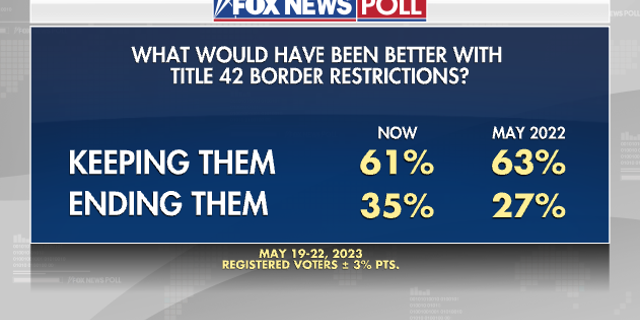 Voters familiar with Title 42 (71%) would prefer to keep the restrictions by a 31-point margin, down from a 49-point margin a year ago. 
Overall, Biden's ratings on border security are in negative territory by 30 points — 33% approve and 63% disapprove. These are his lowest marks to date on the issue. He reached a high of 40% in May 2021 but has hovered in the mid-30s for most of his tenure.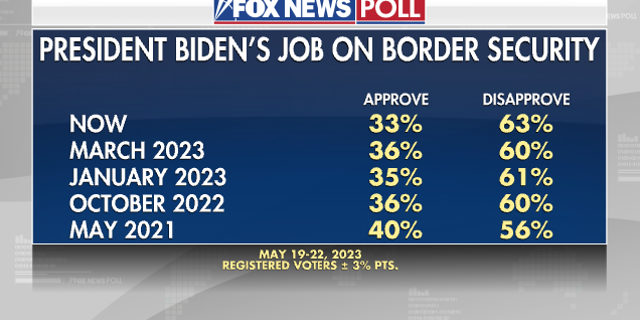 NEW BILL WOULD FORCE DETAINED ILLEGAL IMMIGRANTS TO PROVIDE DNA, FINGERPRINTS FOR NATIONWIDE CRIME ENFORCEMENT
Even so, voters don't necessarily believe Biden's policies are the main reason for the situation on the southern border. In fact, his border and immigration policies rank fourth out of five options when it comes to why voters think more migrants are coming to the U.S. (72%). 
The top reasons voters believe more migrants are coming is because of political and economic factors in their home countries (87%), migrants viewing the U.S. as the best country (83%) and gangs and cartels (82%).  Significantly fewer say it's because of disruption caused by the pandemic (58%).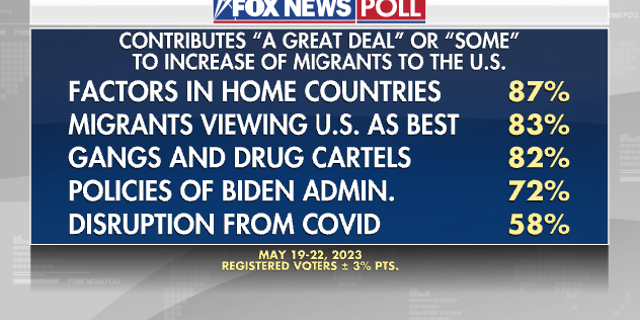 CLICK HERE TO GET THE FOX NEWS APP
Democrats are driving these results, while Republicans are more likely to attribute the influx to Biden policies and gangs (87% each), followed by factors in home countries (84%).
Among Hispanic voters, migrants viewing the U.S. positively comes first (83%), with issues at home (82%), gangs (79%), pandemic disruption (70%) and Biden policies (66%) following.
"Americans broadly recognize we are a victim of our own success when it comes to migration," said Democrat Chris Anderson, who conducts the Fox News poll with Republican Daron Shaw.  "It's understood that migrants are driven from their home countries by desperate conditions, and they see the United States as a beacon of hope and opportunity."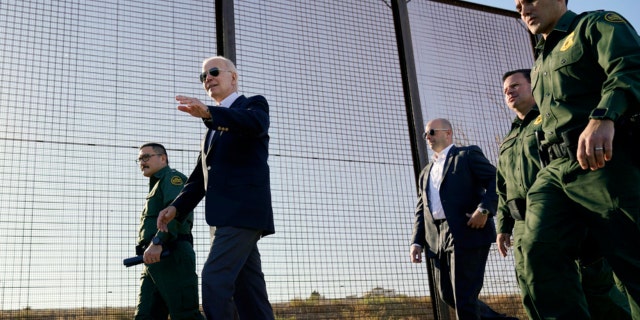 Border security falls in the middle of the pack of overall worries, with 64% extremely or very concerned about it. That number has stayed relatively steady since October 2022.
CLICK HERE FOR TOPLINE AND CROSS TABS
Conducted May 19-22, 2023, under the joint direction of Beacon Research (D) and Shaw & Company Research (R), this Fox News Poll includes interviews with 1,001 registered voters nationwide randomly selected from a voter file who spoke with live interviewers on landlines and cellphones. The total sample has a margin of sampling error of plus or minus 3 percentage points.