Hillary Clinton tore into Gov. Ron DeSantis on Tuesday, swiping at the Florida governor's leadership of "ultra-MAGA Florida" hours before he is expected to launch his presidential campaign.
"Ron DeSantis's ultra-MAGA Florida isn't safe for people of color, LGBTQ+ people, or even multi-billion dollar corporations" Clinton tweeted on Tuesday.
DeSantis is planning to formally announce his 2024 presidential bid Wednesday at 6:00 p.m. ET during a conversation with Elon Musk on Twitter, sources confirmed to Fox News Digital.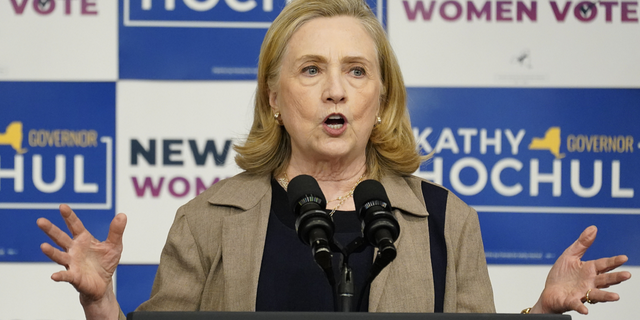 FLORIDA GOV RON DESANTIS TO ANNOUNCE CANDIDACY FOR PRESIDENT WEDNESDAY ON TWITTER: SOURCES
The news prompted reactions from both sides of the aisle, with members of the Trump campaign mocking DeSantis' choice to announce on Twitter while Clinton and others went after his record and policy positions on Twitter.
Clinton tweeted out her thoughts on DeSantis alongside screenshots of two recent news articles, one which cites a civil rights group warning tourists against traveling to Florida and the other reporting on Disney's ongoing feud with the governor.
HILLARY CLINTON SAYS BIDEN'S AGE IS A LEGITIMATE ISSUE: 'PEOPLE HAVE EVERY RIGHT TO CONSIDER IT'
Comments on her tweet were disabled, but that didn't stop online critics from going after the twice-defeated presidential candidate for her bitter commentary and curious concern for "multi-billion dollar corporations" in the state.
"This is really the attack left wingers are going with? That Florida, which has gained over a million new residents since Ron Desantis became governor, isn't safe for minorities or gay people? Does anyone actually believe this? The lies just keep getting crazier," OutKick founder Clay Travis tweeted.
"No one but completely deluded ideologues believe this, and even they no in their hearts it's just a fake narrative," RealClearInvestigations senior writer Mark Hemingway replied.
"Oh man is she bad at this," The Federalist editor-in-chief Mollie Hemingway agreed.
"'Multi-billion dollar corporations' are everyone's main concern. Freaking Hillary always has her hand on the pulse of Americans," a user who tweets under the handle "spitfire" chimed in.
DeSantis' rapid response director Christina Pushaw joked, "Won't somebody think of the multi-billion dollar corporations?"
Radio talk show host Jason Rantz wrote, "It's remarkable that Democrats seriously think this messaging about Florida and DeSantis will land."
"She's right, leftists shouldn't come. Just in case," New York Post columnist Karol Markowicz quipped. 
"Not sure the ultra-MAGA moniker is going to stick on MAGA's Public Enemy #1," conservative podcaster Noah Blum responded, "but you do you."
DeSantis Press Secretary Jeremy Redfern called out Clinton for disabling the comment section.
"Hillary locked down the comments. Amazing," he wrote.
"Hillary disabled replies on this tweet, probably b/c she didn't want people replying w/ comments like, "LGBTQ+ are safer in Florida than young women were when your husband was aboard the Lolita Express," Grabien founder Tom Elliott reacted.
New York Post editor Sohrab Ahmari commented alongside Clinton's post, "I love this tweet because it combines millennial safety discourse with the older Clintonite solicitude for corporate power.
"'Won't someone think of the poor multi-billion dollar corporations?!' screeched the mistress of Fort Marcy Park," Sean Davis, co-founder of the Federalist, tweeted.
One of the articles cited by Clinton reported that the NAACP put out a travel advisory for Black people in the state of Florida, claiming DeSantis amide "aggressive attempts to erase Black history." It was later revealed that the organization's board of directors chairman Leon W. Russell himself resides in the Tampa Bay area.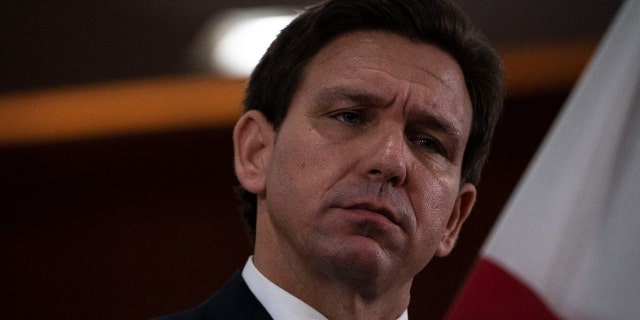 DeSantis' office slammed the travel advisory as "nothing more than a stunt," noting in a statement to Fox News Digital, that "as Governor DeSantis announced last week, Florida is seeing record-breaking tourism."
The NAACP originally floated the possibility of putting out a travel advisory back in March. At the time, DeSantis referred to it as a "joke" and a stunt.
CLICK HERE TO GET THE FOX NEWS APP
"This is a stunt to try to do that," DeSantis said then. "It's a pure stunt. And fine, if you want to waste your time on a stunt, that's fine. But I'm not wasting my time on your stunts. I'm going to make sure that we're getting things done here."