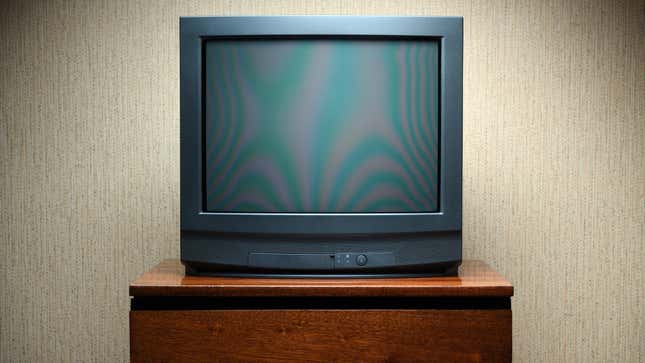 Who could forget those bulky, enormously heavy, static-filled non-smart TVs of our youth? Well now they're back in the limelight—as part of a $33 million settlement.
A new class action lawsuit has been reached with Mitsubishi Electric Corporation involving Cathode Ray Tubes ("CRTs"), a type of monitor technology that uses a large glass tube to display images. The lawsuit claimed that Mitsubishi Electric conspired with other TV brands to fix the prices of CRTs, making customers pay more for their TVs and monitors. This settlement is in addition to nine other similar settlements reached with Chunghwa, LG, Philips, Panasonic, Hitachi, Toshiba, Samsung SDI, Thomson, and Technologies Displays America, according to the settlement.
Who qualifies for the TV settlement?
Here are the requirements:
If you "indirectly" purchased (not buying the product directly from the manufacturer, but instead from a retailer like Costco or Best Buy) a CRT product, such as a CRT television or CRT computer monitor from the following states between March 1, 1995 and Nov. 25, 2007, you qualify: Arizona, Arkansas, California, District of Columbia, Florida, Hawaii, Iowa, Kansas, Maine, Massachusetts, Michigan, Minnesota, Mississippi, Nebraska, Nevada, New Hampshire, New Mexico, New York, North Carolina, North Dakota, Oregon, South Carolina, South Dakota, Tennessee, Utah, Vermont, West Virginia, and Wisconsin. (If you purchased one in Hawaii, Nebraska, and Nevada, you have a shorter claim period).
If you purchased in Missouri, Montana and Rhode Island, it must have been used primarily for personal, family, or household purposes (not for your business or office).
The TV must have been bought for your own use and not for resale.
How much can I get for the settlement?
The amount paid to each class member will be decided based on the size of the TV or monitor you bought, how many you bought, and how many people submit valid claims. The settlement estimates that everyone who applies will receive at least $10 for one TV. You can see the breakdown of how the payments will be determined here.
Make sure to submit your claim by June 13, and keep in mind that if you submitted a claim in any of the prior nine settlements, and you do not submit a claim in this new settlement, your prior claim will automatically be submitted in the new settlement.
To submit your claim, fill out this form online.