At this point, it might not surprise you to know that I love a good casserole. A lineup of my favorite ingredients amassed into a sliceable savory cake of sorts–what's not to like? Monotony, that's what. It's important to keep it interesting, and my latest finding does exactly that. Give your casserole a makeover with an instant mashed potato crust.
Instant mashed potatoes, sometimes called "potato flakes," are mashed potatoes that have been dehydrated into something that resembles aquarium fish food, but don't let that weird you out too much, they actually taste great. For our purposes, they're especially useful because we can control the moisture content. Could you use homemade mashed potatoes? Sure, but I would suggest leftovers over freshly-made, creamy mashed potatoes. The goal is to use barely enough water to help shape the potato layer, and then lose most of it during baking, in order to have a sliceable layer of potato on the bottom that doesn't fall apart.
I used a 7-by-9-inch Pyrex baking dish for my casserole, and prepped it with a heavy coating of butter. The Idahoan mashed potatoes box has a helpful little chart of serving-based measurements on the back. In a medium bowl, I added four servings worth of potato flakes, salt, and butter, and you should do the same. Do not add the liquid measurements as instructed by the box. Instead, boil some water and drizzle in a half a cup.
Using a rubber spatula, start mixing and mashing the flakes with the other ingredients. If there are still clusters of dry flakes hanging around, add more water. Add about a 1/4 cup at a time and mash the mixture around until the potatoes have the consistency of Play-Doh, or clay. I used 1 cup of hot water for 1 1/3 cups of potato flakes. Add grated parmesan cheese and mix it in. I used 1/3 of a cup of grated parm, but if you're using pre-shredded parmesan use a 1/2 cup. This cheese is going to help bind the potato mixture once it cools.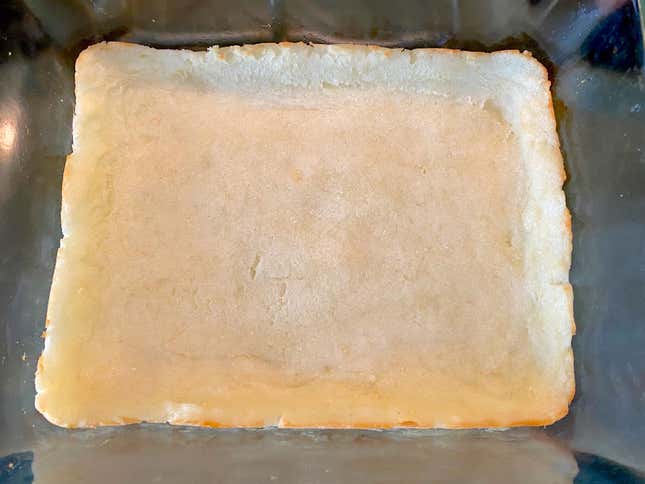 Press the cheesy potato-doh into the casserole dish to make an even layer. I pressed the mixture up the sides about half an inch to build up a slight wall. Bake the crust in a 350°F oven for about 25 minutes, or until the edges begin to brown and when you touch the potato layer it feels dry. The crust is ready for your casserole filling. Once you fill it, bake the casserole as usual, looking for normal signs of doneness, depending on the ingredients. The potato layer will continue to bake and get a lovely browned bottom.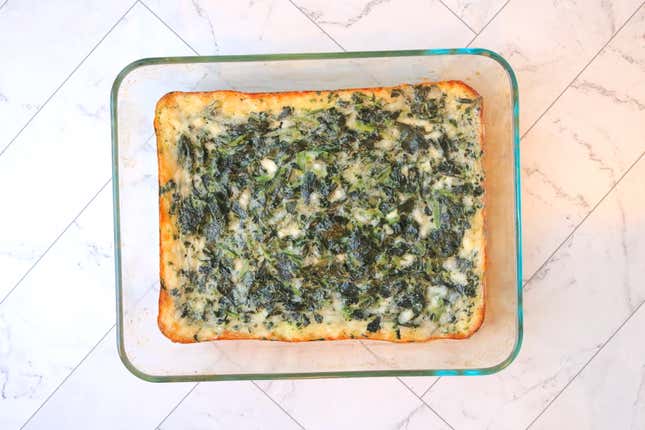 Let the casserole cool completely before slicing. The parmesan potato crust adds a salty, parmesan note to every bite, but the texture gives the casserole its wow-factor. The bottom and edges of the crust become well toasted in the oven, making it slightly crisp and chewy, and is immediately followed by the potato-fluff layer. It's fluffy, yet substantial, without being gloppy. The filling will mingle with the soft inner potato layer, leaving you with the impression that there are even more layers to your casserole.
The following recipe is for a spinach casserole that makes for an excellent week of lunches, or a fantastic vegetarian dinner. Add any variety of dry spices or fresh herbs to the filling mixture to fit your fancy. This keeps well-covered in the fridge for up to five days.
Cheesy Spinach Casserole with a Mashed Potato Crust
Ingredients for the crust:
1 ⅓ cups instant mashed potato flakes
2 tablespoons butter, melted
½ teaspoon salt
1 cup hot water
⅓ cup grated parmesan
Ingredients for the filling:
2 cups frozen cut-leaf spinach
1 cup cottage cheese
2 cups egg whites
½ teaspoon salt
Preheat the oven to 350°F. Butter a 7-by-9-inch casserole dish.
Mix the first four ingredients together in a medium bowl until well-combined, and the mixture resembles the consistency of clay. Mix in the parmesan cheese. Press the mixture into the bottom of the casserole dish and slightly up the sides. Bake 350°F for 25-30 minutes, or until the edges begin to brown. While waiting, prepare the filling.
Mix all of the filling ingredients together in a bowl. (If your spinach is in brick-form, defrost it and break it apart first.) Once the potato crust is ready, pour the filling into the crust, spreading it out evenly if necessary.
Bake at 350°F for about 35 minutes. The edges should be puffed and set, and the center should no longer jiggle when shaken. Cool completely before slicing.