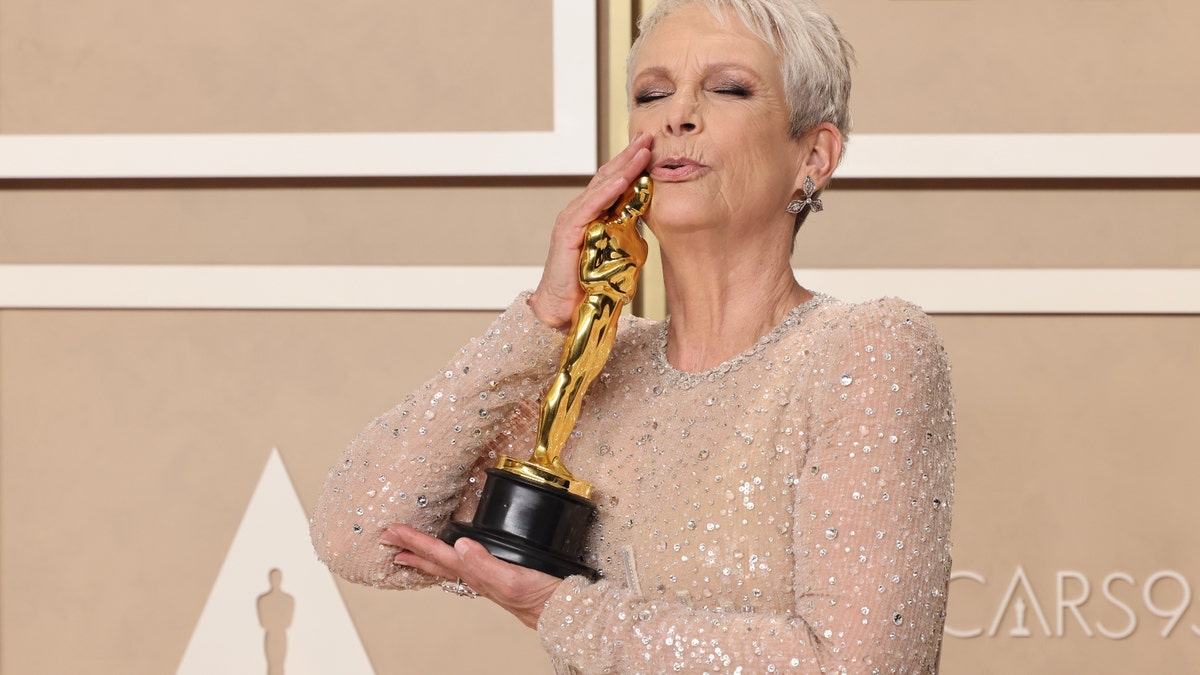 Oscar winner Jamie Lee Curtis said she would be referring to her Oscar statue using they/them pronouns in support of her transgender daughter Ruby, the actress told hosts Hoda Kotb and Savannah Guthrie Curtis during an appearance on "Today" Tuesday.
"Here they are! In support of my daughter Ruby, I'm having them be a they/them," Curtis said while lifting her Oscars statuette next to her face in a video chat appearance on the morning show. 
"They are doing great, and they're settling in" she continued in reference to her award. "In my life, I never thought in a million years that I would have these couple days, and I'm very moved by the whole thing."
MASSACHUSETTS HIGH SCHOOL SOLIDIFIES STATE TITLE WITH HELP FROM TRANSGENDER GIRL, POLICY PUT UNDER MICROSCOPE
Curtis won her first Oscar at Sunday night's Academy Awards for her supporting role as Deirdre Beaubeirdre in "Everything Everywhere All at Once" which also took home the best picture, the night's highest honor. 
Curtis, who has long been a supporter of the LGBTQ+ community, announced in 2021 that she and her husband Christopher Guest "watched in wonder and pride as our son became our daughter Ruby," according to an AARP magazine profile. 
OSCAR WINNER JAMIE LEE CURTIS CONTACTED HER DOG WALKER FIRST AFTER RECEIVING ACADEMY AWARD
In May 2022, Curtis shared on Instagram that Ruby had married partner Kynthia in a cosplay-themed wedding.
"Yes they do and did!" Curtis wrote in the caption of a photo shared on Instagram.
During comment following the show Sunday night, Curtis said making awards ceremonies gender-neutral would take opportunities away from women, She descirbed the honor as"surreal" and stated she was "proud," but added that she would like to see more opportunities for women in Hollywood to achieve "gender parity in all the areas."
CNN LEAVES OUT MICHELLE YOEH'S 'PRIME' JAB AT DON LEMON AS ANCHOR PRAISES ASIANS WINNING BIG AT THE OSCARS
"I think we're getting there, we're not anywhere near there and, of course, the inclusivity, then, that involves the bigger question, which is, 'How do you include everyone when there is binary choices?'" she told a reporter. "Which is very difficult, and as the mother of a trans daughter, I completely understand that."
"And yet, to de-gender the category, also, I'm concerned, will diminish the opportunities for more women, which is something I also have been working hard trying to promote," she added.