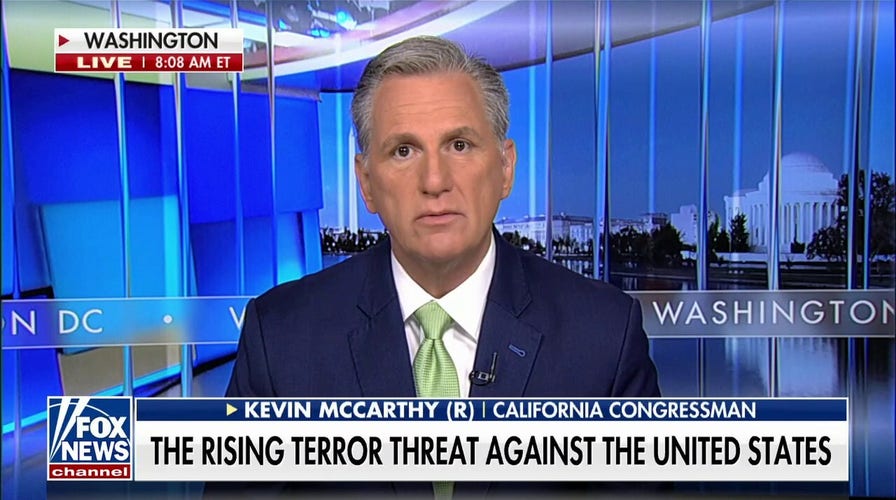 The speaker of the House said Friday that Democrats can't face what is really happening at the southern border after the rival party skipped a Republican-led House hearing in South Texas. 
Rep. Kevin McCarthy, R-Calif., joined "Fox & Friends" to react to the crisis at the southern border and how Republicans are pushing for solutions without help from Democrats.
"This is the problem that is happening, and the Democrats won't even do something about it. But the worse case is they ignore it and try to hide from it because they know what they created."
BORDER PATROL TERROR WATCH-LIST ENCOUNTERS ON TRACK TO OUTPACE LAST YEAR'S RECORD
Democrats on the House Homeland Security Committee said they would attend Wednesday morning's in-person field hearing at the southern border — even going so far as to book their travel and call a witness — before pulling out of the hearing earlier this week, a GOP spokesperson told Fox News.
McCarthy said he is "shocked and enraged" with Democrats because "Americans are dying."
"Think of the number, of 300 just in fentanyl. That's the equivalent of an airline crashing every single day in this country. And they won't even show up to get the news."
McCarthy said the reason that the hearings take place at the border is so Democrats no longer have an excuse to ignore the crisis. 
"We've actually heard the truth from the border agents that, no, we do not have operational control. That number is just last month, there are 16 people on the terrorist watch list. That's more than the entire four years under President Trump." 
BORDER PATROL TERROR WATCH-LIST ENCOUNTERS ON TRACK TO OUTPACE LAST YEAR'S RECORD
"Three years ago is when I broke the news that people on the terrorist watch list were coming across. And the Democrats called me a liar about it. They have ignored this problem. It's too big to ignore anymore. And Americans are dying every day from drugs and car chases." 
According to CBP data, border encounters with people on the terrorist watch list grew from 15 in 2021 to 98 in fiscal year 2022.
CLICK HERE TO GET THE FOX NEWS APP
Democrats explained why they refused to attend the border hearing, "Instead of a fact-finding mission to develop better border security and immigration policies, Republicans are traveling to the border to attack the Administration and try to score political points with their extreme rhetoric – despite having voted against the resources border personnel need," Ranking Member Bennie Thompson said in a statement. 
"Committee Democrats are in regular contact with Department leadership and stakeholders on the ground and will be taking substantive site visits to the border – including as soon as this week."
A Texas grandma and her 7-year-old granddaughter were killed Monday in a car crash that involved a human smuggler evading arrest, authorities said. The Texas Department of Public Safety (DPS) has confirmed their identities as 71-year-old Maria Tambunga and Emilia Tambunga, a second-grader at Ozona Elementary School.