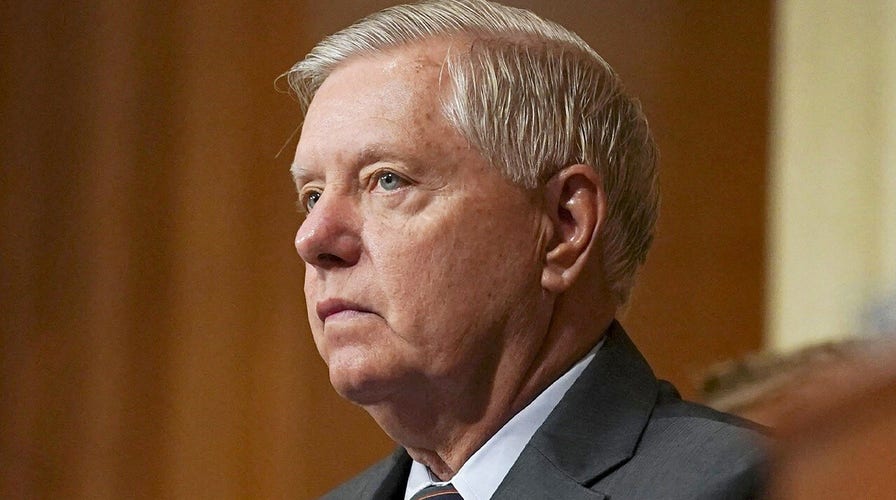 Sen. Lindsey Graham pushed back on Florida Gov. Ron DeSantis after he suggested the Russia-Ukraine war is a "territorial dispute" that the U.S. does not need to get "further entangled" in. 
Graham joined "The Brian Kilmeade Show" to discuss why he disagrees with DeSantis, warning of broader global implications if the U.S. takes a back seat with aiding Ukraine in the war against Russia. 
"He used to have a different view, but I respectfully disagree," Graham told Brian Kilmeade on Thursday. "He's right about fentanyl. So what am I going to do? The Biden approach to foreign policy is not working. When you lay down and cower in front of aggression, you get more of it."
GOP SENATOR 'P—ED OFF' BY RUSSIA FORCING DOWN US DRONE: 'WE CANNOT ALLOW THAT TO HAPPEN'
"How could you get a bigger war? How could we get a really big war? Let Putin take Ukraine," he continued. "He's not going to stop. He'll go to Moldova, into the country of Georgia, and he's looking at the Baltic States or NATO. So the likelihood of a big war between America and Russia comes from letting him get away with destroying the Ukraine, because he'll keep going."
DeSantis sparked controversy among his own party after his remarks on the matter, which came in response to a series of questions from Fox News' Tucker Carlson directed to a series of potential presidential 2024 candidates. 
"While the U.S. has many vital national interests… becoming further entangled in a territorial dispute between Ukraine and Russia is not one of them," DeSantis told Carlson.
He reiterated that "peace" is the ultimate goal, while standing firm against providing F-16s and long-range missiles, because they could "enable Ukraine to engage in offensive operations beyond its borders." 
DeSantis also argued that "we cannot prioritize intervention in an escalating foreign war over the defense of our own homeland, especially as tens of thousands of Americans are dying every year from narcotics smuggled across our open border and our weapons arsenals critical for our own security are rapidly being depleted."
REPUBLICAN 2024 HOPEFULS RESPOND TO TUCKER CARLSON'S QUESTIONS ABOUT THEIR STANCE ON RUSSIA-UKRAINE WAR
DeSantis has not yet announced if he will seek a 2024 bid for the White House. 
But Graham warned there could be a domino effect that rattles international stability if Ukraine does not have the tools to keep Putin's forces at bay. 
"With all due respect to the governor, Ukraine is vitally important to us," Graham said. "Putin's trying to rewrite the map of Europe. If you can stop him in Ukraine, his ambitions fail. If you think giving in to Putin makes China less provocative, you're you're missing a lot."
If Putin is able to take over Ukraine, the conflict could end up engulfing countries around the world, Graham argued. 
"If we can stop Putin in Ukraine, the world resets in all the right ways," Graham said. "If he gets away with war crimes on an industrial scale, we look the other way, then you're going to have a bigger war in Europe that's complete over to Asia and the Mideast."
US SUPPORT FOR ARMING UKRAINE DROPPING DESPITE BIDEN PROMISES
Graham's comments come after officials confirmed to NBC News that the Russian jet collision that took down an American MQ-9 Reaper drone was approved at the "highest levels" of the Russian government. 
It remains unclear if Vladimir Putin himself ordered the downing. 
The South Carolina senator slammed Biden for his handling of the incident, dubbing the wreck as a "critical moment" in history. 
"This is a defining moment in world history," he continued. "The worst possible thing to do is give in to threats of Russia at this critical moment in time. China's watching, so I'd send the drones right back in and out, have fighter aircraft ready to defend them at their attack by Russia. Russia is the aggressor, not Ukraine."
CLICK HERE TO DOWNLOAD THE FOX NEWS APP
Officials released footage of the incident, showing two Russian jets aggressively targeting the U.S. drone, which was flying over international waters. 
After the drone was sprayed with fuel, a Russian jet clipped the aircraft, which forced it down into the water. Russian officials launched an effort to recover the aircraft, but U.S. officials have suggested it is likely not salvageable. 
"I am confident that strength is better than weakness," Graham said. "I am confident that Joe Biden is on the wrong track on multiple fronts, and the best way to prevent a war is to stand up the thugs, not run and hide in the corner."
Fox News' Anders Hagstrom, Kyle Morris, Joseph A. Wulfsohn, and Lawrence Richard contributed to this report.