Mexican President Andres Manuel Lopez Obrador again waded into the U.S. political situation on Thursday when he urged Hispanics not to vote for newly-declared presidential candidate and Florida Gov. Ron DeSantis — the latest example of the Mexican president meddling in U.S. elections against Republicans.
Lopez Obrador spoke at a press conference a day after DeSantis declared his candidacy for the Republican nomination for president in 2024. DeSantis has taken a hard stance against illegal immigration, and has called for greater security at the border — including shutting down the border with Mexico.
Lopez Obrador accused DeSantis of pushing "anti-immigrant" policies and urged Hispanics not to vote for him.
"I hope the Hispanics of Florida wake up and don't give him any votes, that they don't vote for those who persecute migrants, those who don't respect migrants," he said, according to The Guardian.
CRENSHAW RESOLUTION CONDEMNS MEXICAN PRESIDENT FOR THREATENING TO MEDDLE IN US ELECTIONS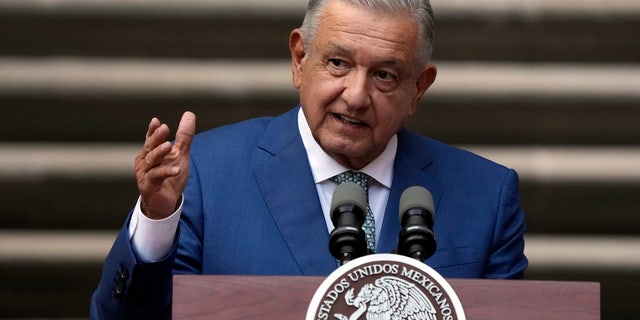 The remarks are the latest instance of meddling in U.S. elections by the unpredictable Mexican premier — who has fumed at Republican criticism of his handling of immigration and the flow of fentanyl into the U.S.
In March he threatened to launch an "information campaign" against Republicans, telling Hispanics not to vote for them, after lawmakers suggested potential military action to take out the drug cartels pumping out fentanyl and sending it to the U.S.
MEXICAN PRESIDENT PLEADS FOR CHINESE REGIME'S HELP ON FENTANYL CRISIS, SLAMS 'RUDE THREATS' FROM US
"Starting today we are going to start an information campaign for Mexicans who live and work in the United States and for all Hispanics to inform them of what we are doing in Mexico and how this initiative by the Republicans, in addition to being irresponsible, is an offense against the people of Mexico, a lack of respect for our independence, our sovereignty," he said.
"And if they do not change their attitude and think that they are going to use Mexico for their propaganda, electoral, and political purposes, we are going to call for them not to vote for that party, because it is interventionist, inhumane, hypocritical, and corrupt," Lopez Obrador said, later adding that Mexico would be insisting that "not one vote" goes to Republicans from Mexicans and Hispanics.
In July 2022 he also targeted Texas Gov. Greg Abbott and said that Mexico is "going to ask our countrymen there that they don't vote for that candidate or party."
MEXICAN PRESIDENT SAYS LACK OF 'HUGS AND EMBRACES' NOT DRUG CARTELS TO BLAME FOR FENTANYL CRISIS
Lopez Obrador has also taken swipes at American lawmakers when appealing for help from the Chinese Communist regime in stopping fentanyl — which is created in Mexico using Chinese precursors.
"Unjustly, they are blaming us for problems that in large measure have to do with their loss of values, their welfare crisis," he wrote. "These positions are in themselves a lack of respect and a threat to our sovereignty, and moreover they are based on an absurd, manipulative, propagandistic and demagogic attitude."
CLICK HERE TO GET THE FOX NEWS APP
DeSantis, meanwhile, recently announced that Florida is sending law enforcement and National Guard troops, among other resources, to the border to help with the ongoing migrant crisis at the Texas-Mexico border.