It is "highly unlikely" Russia will find anything useful if it manages to recover a U.S. surveillance drone from the deep waters of the Black Sea where it crashed earlier this week after colliding with a Russian fighter jet, the Pentagon said Thursday.  
The comments from Pentagon press secretary Brig. Gen. Pat Ryder comes amid reports that Russia was making an effort to recover the MQ-9 Reaper drone's debris. 
Ryder reiterated Joint Chiefs of Staff Chairman Gen. Mark Milley's assertion that no sensitive material was compromised in the drone incident. 
"We do have indications that Russia's likely making an effort to try to recovery MQ-9 debris," Ryder said. "However, we assess it's very unlikely that they would be able to recovery anything useful, given a couple of factors." 
RUSSIAN LEADERSHIP ORDERED FIGHTER JET PILOTS TO BE AGGRESSIVE WHEN INTERCEPTING US DRONE: SOURCES
Ryder did not elaborate on those factors, but said the U.S. has taken steps to "protect information" on the drone. He also noted that it crashed in "extremely deep water," making recovery efforts difficult. 
Ryder could neither confirm nor deny that Russia had deliberate ordered the attack but denounced the pilot's behavior as "reckless" and "dangerous."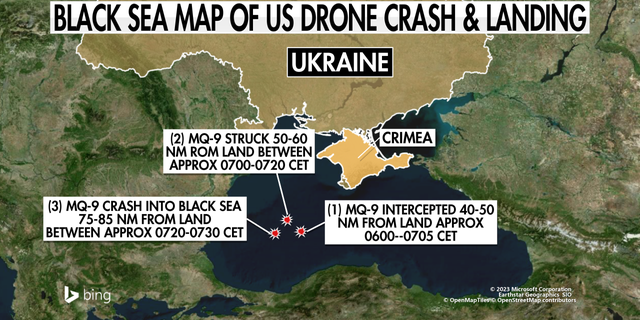 "Whether or not this is a coordinated effort, I couldn't tell you. What I can tell you is that it's wholly inappropriate," Ryder said. "It's unsafe and it's unprofessional. The stakes are high." 
He said the U.S. has not demanded an apology from Russia. 
The U.S. European Command said two Russian Su-27 Flanker fighter jets intercepted the drone while it was operating within international airspace. It said one of the Russian fighters struck the propeller of the MQ-9, causing U.S. forces to bring it down in international waters.
RUSSIA FLYING MORE ARMED AIRCRAFT OVER US BASES IN SYRIA, US CENTCOM COMMANDER SAYS
Prior to that, the Su-27s dumped fuel on the MQ-9 and flew in front of it several times in "a reckless, environmentally unsound and unprofessional manner," the U.S. European Command said in a statement from Stuttgart, Germany.
Russia has insisted its warplanes didn't hit the U.S. drone. Instead, it said the drone maneuvered sharply and crashed into the water following an encounter with Russian fighter jets that had been scrambled to intercept it near Crimea.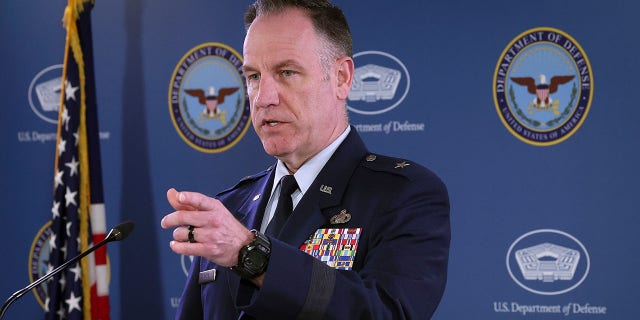 Russia's Defense Ministry said the U.S. drone was flying over the Black Sea near Crimea and intruded in an area that was declared off limits by Russia as part of what it calls its "special military operation" in Ukraine, causing the military to scramble fighters to intercept it.
The U.S. European Command said the incident followed a pattern of dangerous actions by Russian pilots while interacting with U.S. and allied aircraft over international airspace, including over the Black Sea.
CLICK HERE TO GET THE FOX NEWS APP
"These aggressive actions by Russian aircrew are dangerous and could lead to miscalculation and unintended escalation," it warned.
The Associated Press contributed to this report.