Members of LGBTQ group "Equality Florida," and other leftwing activist groups and Democratic state lawmakers turned out at the Florida capitol recently to protest GOP-sponsored bills restricting minors' access to sex change therapies and surgeries.
In a viral moment from the protest, Democratic Florida Rep. Anna Eskamani told a raucous pro-LGBTQ crowd that through the bill, the GOP is "erasing our trans babies!"
The protests at the Florida capitol in Tallahassee Monday were part of the "Pride at the Capitol" event, organized to oppose Senate Bill 254, a legislative proposal limiting the access minors have to sex reassignment treatment. 
TRUMP ROASTED ON TWITTER AFTER SAYING CHARLIE CRIST DID A 'GOOD JOB' GOVERNING FLORIDA IN DIG AT DESANTIS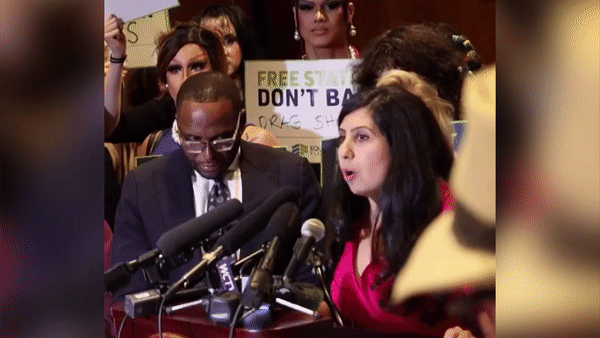 The protests were held as SB 254 was being debated by the Florida Senate Health Policy Committee.
Sponsored by Republican state Senator Clay Yarborough, the bill "places restrictions for children under the age of 18 regarding receiving sex reassignment prescriptions and surgeries," local outlet The Florida Standard said.  
According to the report, Yarborough has stated that the purpose of SB 254 is to "protect children from the many life-altering and unknown long-term side effects that these treatments and procedures could have on them."
Democratic Party and leftwing opponents of the bill claim that trans children will be "vilified" if the bill becomes law. Another criticism they provided was that the bill gives power for the state government to intrude on families allowing their minor to pursue sex reassignment procedures.
FIRST ON FOX: BLUEPRINT FOR 2024? DESANTIS PENS NEW BOOK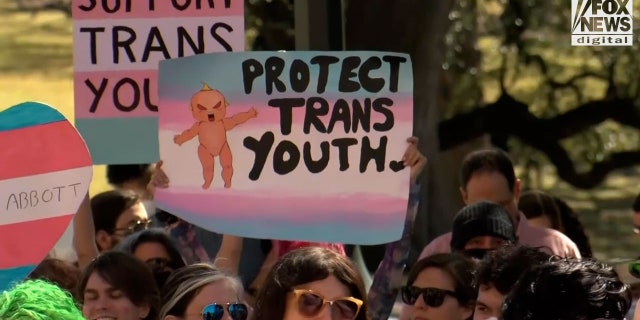 Vocal opponents of the bill engaged in dramatic protests Monday as the bill was debated. In video captured by the Standard, leftist protestors were shown chanting against Governor Ron DeSantis, R-Fla., outside the Capitol building. Protestors yelled "Hey, hey! Ho ho! Ron DeSantis has got to go!" and "Our house!"
Inside the building activists and lawmakers held a mini rally slamming the Florida GOP's bills. Several lawmakers spoke before an agitated crowd holding signs which stated, "Ban Hate Not Books," a dig at the DeSantis administration's efforts to remove pro-LGBTQ books from public school libraries and remove CRT-infused courses from state school curriculums.
Other signs, held by drag queens in attendance, stated, "Free States Don't Ban Drag Shows."
During the protest, Rep. Eskamani furiously declaring that Florida Republicans are "erasing our trans babies" with the Senate bill.
During her speech, the lawmaker claimed, "When you strip away access to gender-affirming care, you are erasing trans people. You are erasing our trans babies!"
Elsewhere in her remarks, she blasted DeSantis, saying, "And we are facing a governor who wants to commit genocide on trans people."
CLICK HERE TO GET THE FOX NEWS APP 
Though as the Florida Standard noted, even some Democrats opposed to SB 254 found Eskamani's rhetoric off-putting. According to the outlet, an anonymous "top Democrat" told it, "Anna is why we lose," acknowledging that her extreme statements put Florida Democrats in a tough position. 
Fox News Digital reached out to Eskamani's office to see if the lawmaker still stands by the comments and did not receive a response.