A Texas mom of two says she has God and her little dog to thank for helping her come through the greatest struggle of her life.
Wyndi Adkins of Blooming Grove, Texas, is a 44-year-old quadruple amputee; her limb removal was a result of complications that arose from a surgical procedure she had.
In an interview with Fox News Digital, Adkins said she underwent nerve decompression surgery on the back of her neck on Oct. 10, 2019, to alleviate migraines.
DOG OWNER GOOD NEWS: PETTING YOUR DOG MAY LEAD TO STRONGER MEMORY AND BETTER PROBLEM SOLVING SKILLS
Twelve days after the procedure, on Oct. 22, Adkins was airlifted to Dallas and put into a medically induced coma after she suffered sepsis due to strep on her incision.
Adkins was in a coma for 14 days before waking up and seeing that her hands and feet had turned black, she said.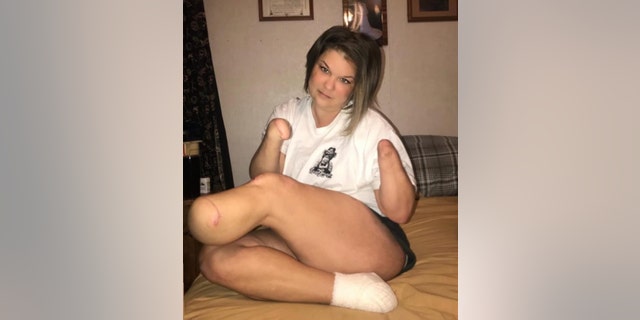 This was due to the excessive use of suppressors to keep the blood pumping to her organs, she also said, which ultimately pulled the blood away from her limbs.
"Unfortunately, there was no blood flow back to the limbs once I woke up," she said. 
"So, we had to amputate."
THE SALVATION ARMY OFFERS EMOTIONAL, SPIRITUAL SUPPORT AFTER OHIO TRAIN DERAILMENT: 'PROVIDING HOPE'
Adkins lost both her hands, a part of her right foot and her left leg six inches below the knee.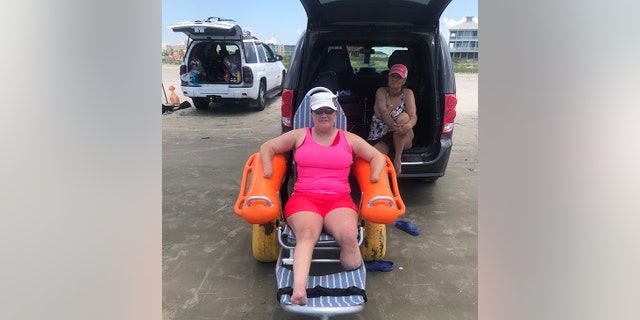 "In the beginning, when I really understood everything that was going on, it was really hard," she said. "I got really depressed."
"Sitting around feeling sorry for myself wasn't an option."
Adkins' faith in God ultimately helped pull her out of the depression, she said. She said she knew that if she gave up, she'd also be giving up on her children. 
"And they're everything to me," she said of her 21-year-old twins.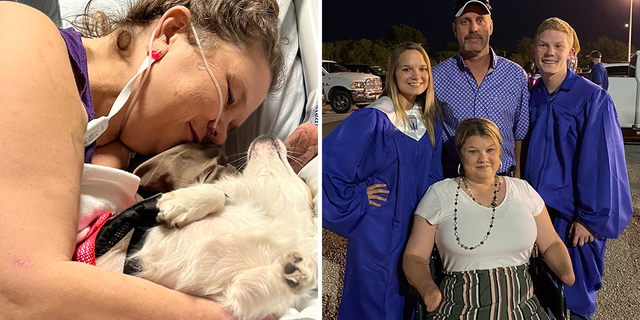 "Between my faith and my family, I decided I needed to pretty much give it to God and do what I can to overcome what has happened."
PATRIOT REMEMBERED: MILITARY MOM MEMORIALIZES SON WHO DIED IN NATIONAL GUARD HELICOPTER CRASH WITH NEW BOOK
Adkins, married for 22 years, admitted that if she had not summoned her faith, she would not be where she is today.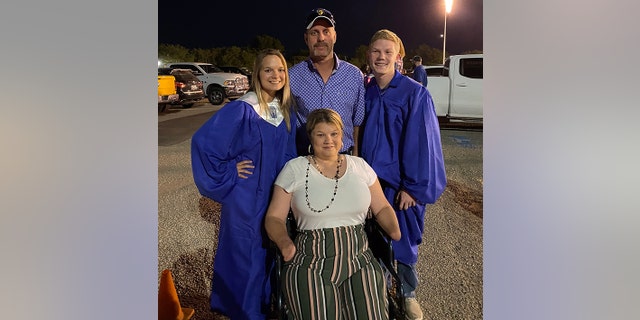 "Sitting around feeling sorry for myself wasn't an option," she said. "I knew I had to get up and do it … if I wanted to be around for my family."
Adkins slowly began regaining her independence. She practiced walking with her prosthetic legs a little farther each day.
VETERAN OF US ARMY REGAINS ABILITY TO MOVE FINGERS WITH NEW PROCEDURE, PROSTHETICS: HOPE FOR 'NORMAL FUTURE'
While she attributes her resiliency to the power of God, Adkins also received a lot of help from a little dog named Mazi. 
"She's not a dog – she's a family member."
The two-year-old Chiweenie pup has served as an emotional support animal for Adkins, who knew when she began looking that she wanted a small dog to help her cope.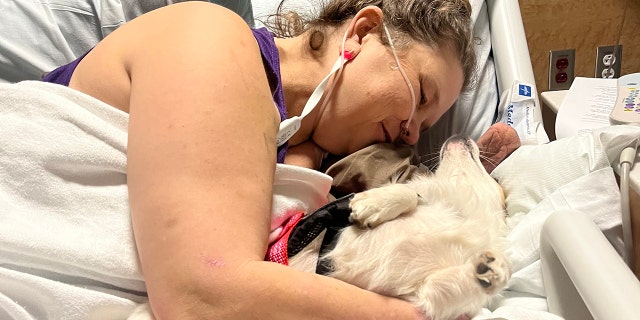 Adkins' mother found a woman who was selling Chiweenies locally and told the breeder her daughter's story.
The breeder agreed to sell then-six-week-old Mazi to Adkins and her mom for only two bags of pig food, Adkins said.
DOGS AND CATS ROAM FREE AS FIRST CAGELESS ANIMAL SHELTER IN US OPENS IN ARKANSAS
Calm and cool, Mazi now accompanies Adkins "everywhere," she said, and is always in tune with her owner's emotions.
"It's like she knows when I'm having a bad day," she said. "She'll just come get in my lap and just love on me."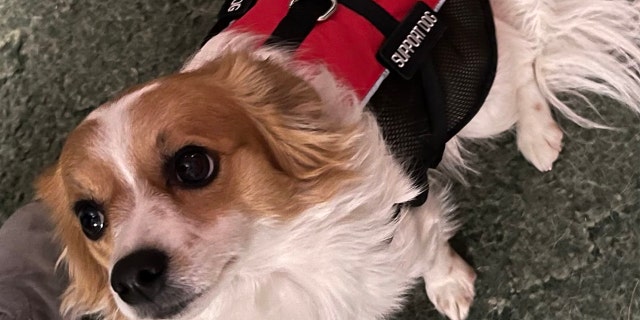 Mazi is great at making her laugh when she's feeling down, Adkins said, which has helped "truly more than anything."
"She's not a dog – she's a family member," she added. 
"She is worth so much to me. I don't know if I would be as happy as I am today if I didn't have her."
"She is Mama's baby."
When Adkins cries, "[Mazi] gets right up nose to nose with me and puts a leg on each side and just hugs me," she continued.
CLICK HERE TO SIGN UP FOR OUR LIFESTYLE NEWSLETTER
Adkins underscored the emotional benefits therapy pets can provide to people with disabilities.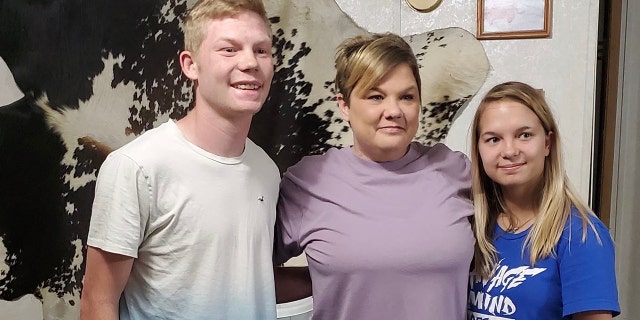 "She is Mama's baby," she laughed.
Adkins recently underwent a procedure called a muscle flap transplant that reconstructed her heel.
While Adkins is still maneuvering through her life as a quadruple amputee, she hopes to raise enough money to afford i-Limb Quantum bionic hands, which give users the ability to move all five fingers.
CLICK HERE TO GET THE FOX NEWS APP
For anyone interested, donations can be made through GoFundMe at gofundme.com/f/medical-necessities-and-hands.