Two suspects are in custody following a deadly shooting inside a Florida surf shop Tuesday night, police say. 
Johnathan Stanley, 20, of Clearwater, was arrested at the Clearwater Mall Wednesday night. He is charged with second-degree murder and is being held on $750,000 bond.
"Great work by our detectives and others to nab the suspect within 24 hours," Clearwater Police Department tweeted. 
Zayah Massucci, 19, was arrested Wednesday and is charged with accessory after the fact related to the shooting. He allegedly assisted and gave aid to Stanley despite knowing Stanley was wanted by police.
ONE KILLED IN FLORIDA SURF SHOP SHOOTING, MANHUNT UNDERWAY FOR PERSONS OF INTEREST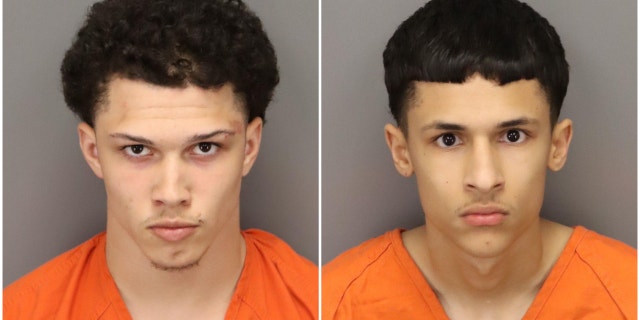 A Largo man, identified as 22-year-old Rodney Sweeney, died as a result of his injuries following the shooting inside Surf Style located at 315 S. Gulfview Blvd., around 8 p.m. Tuesday, FOX 13 Tampa Bay reports.
Sweeney was found on the second floor of the business with a gunshot wound. He was taken to a hospital where he died. 
FLORIDA HOTEL POINTS FINGERS AFTER DESANTIS MOVES TO STRIP ITS LIQUOR LICENSE OVER 'LEWD' DRAG SHOW
It does not appear the victim and suspect knew each other, police said during a press conference Thursday, but the two had "some kind of verbal contact" at some point that day. Investigators are still trying to determine what occurred.
"What happens a lot of times these young adults… some of them with the intent to fight, and I think that's what Johnathan and his little clan were involved in," Clearwater Police Chief Daniel Slaughter said. "I think they were there to pick a fight just because it's cool to do this."
Slaughter showed surveillance video of the shooting during the presser. The victim, Sweeney, approached and struck the suspect, Stanley, on the second floor of Surf Style that night. 
That is when investigators say Stanley pulled out a handgun and fired three rounds, two of which struck Sweeney. 
"This battery is no excuse for pulling out a firearm," Slaughter said. "It appears very likely he intended to use this firearm from the get-go. This whole incident occurred in a crowded establishment with other citizens close by."
Police released surveillance images of three persons of interest on Tuesday.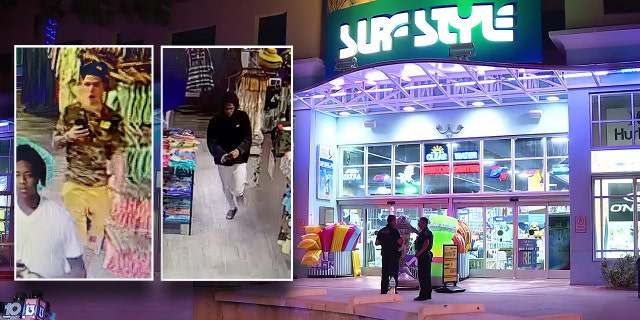 CLICK HERE TO GET THE FOX NEWS APP
Anyone with information on the shooting is asked to call Clearwater police at 727-562-4242.