A Utah father and son were rescued from a river on Sunday after the pair fell off their raft and got trapped on a sandbar surrounded by fast-moving water, authorities said.
The rescue took place in the Virgin River in St. George, Utah, near the border with Arizona.
Joey Reese and his son Jacob spoke with FOX13 Salt Lake City, telling the outlet that they believed they were going on a calm float down the river when conditions suddenly turned rough.
"It was a lot of fun up until it wasn't," Reese said. "It really was and it changed just like that."
2 BROTHERS PRESUMED DEAD IN OREGON AFTER RAFT FLIPS ON RIVER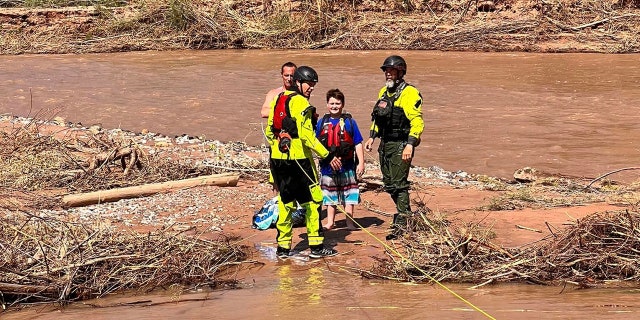 The pair said the current was so strong it sucked off Jacob's shoes and socks.
"Everything got swept away," Reese said, including his cellphone.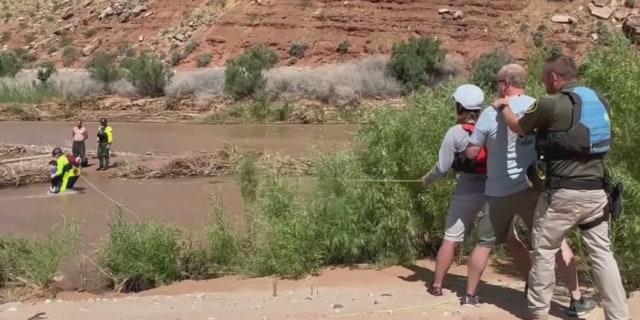 Reese said that he spotted a woman on a ridge and called for help. Rescuers arrived just minutes later.
Washington County Sheriff Search and Rescue released video showing two rescuers jumping into the river and swimming against the swift current to reach the trapped duo.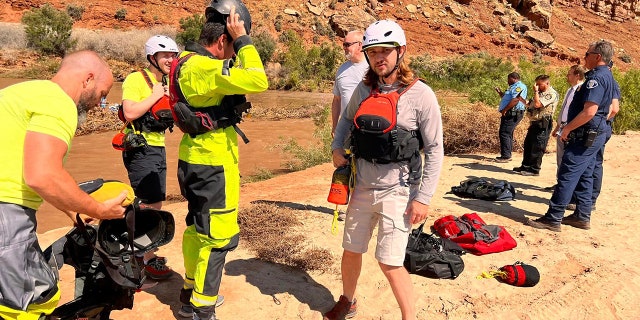 Officials used throw bags, long lengths of rope in a bag often used to perform rescues, to pull the father and son individually to safety.
BODY OF MISSING VIRGINIA MAN BELIEVED FOUND IN SHENANDOAH NATIONAL PARK
Video showed one rescuer holding the boy as they waded into the river water while tied to the rope. Three rescuers on the riverbank then pulled the pair against the current and out of the water.
The second rescuer on the sandbar then helped guide the father through the swift current as they were safely pulled to the riverbank.
Officials warned people to be careful should they decide to go in the river, saying that heavy rainfall and snow melt has resulted in multiple swift water rescues this year.
"The water is moving a lot faster than it looks," officials said, "and what may seem like a fun outing can easily turn into a potentially deadly scenario."