The family of a Black Virginia man who died after getting handcuffed, shackled and pinned to the ground by deputies at a state mental hospital, called on the U.S. Department of Justice to intervene in the matter after watching video of the incident on Thursday, according to reports.
The family of Irvo Otieno, 28, spoke during a press conference with attorneys after watching video of the incident captured by cameras at the mental hospital, decried the treatment Otieno sustained at a local jail and hospital, where he ultimately died on March 6.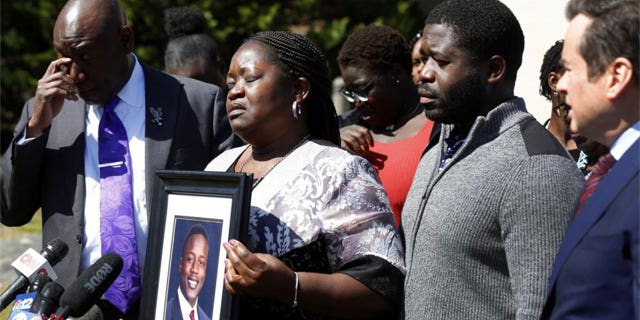 The Associated Press reported that the family claims Otieno's civil rights were violated and called for higher courts to intervene in the case.
BLACK MENTAL PATIENT PINNED DOWN, SMOTHERED TO DEATH BY DEPUTIES AT VIRGINIA HOSPITAL, PROSECUTOR SAYS
"It is truly shocking that nearly three years after the brutal killing of George Floyd by police, another family is grieving a loved one who allegedly died in nearly the exact same manner — being pinned down by police for 12 agonizing minutes," Ben Crump, an attorney representing the family said on Thursday.
Crump has fought in some of the most notable cases recently involving Black individuals dying while in the custody of police, like George Floyd.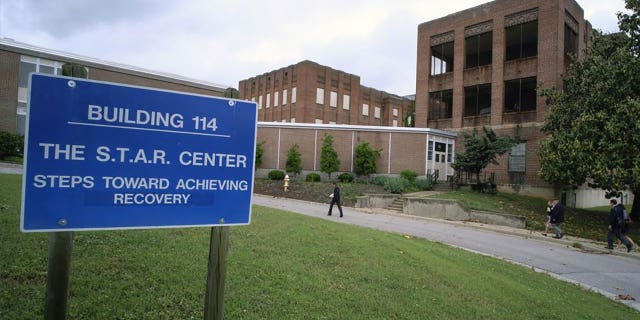 Another attorney representing Otieno's family is Mark Krudys, who watched the video footage with family members in court.
LA COUNTY SHERIFF VILLANUEVA SLAMS 'WOKEISM,' SAYS IT MUST GO TO MAKE CITY 'LIVABLE AGAIN'
Krudys said seven deputies facing murder charges are seen on video pushing Otieno to the ground while he was cuffed and had his legs restrained.
"You can see that they're putting their back into it," Krudys said. "Every part of his body is being pushed down with absolute brutality. You cannot even see his image many times."
The footage viewed in court has not been released publicly.
So far, 10 people have been charged with second-degree murder in the death of Otieno. Those 10 include seven Henrico County Sheriff's deputies who were charged on Tuesday, and three people employed by the hospital, whose charges were announced on Thursday.
Dinwiddie County Commonwealth's Attorney Ann Cabell Baskervill, the AP reported, said during the first hearing that Otieno was smothered to death, and that the officers had no justification for putting him on the floor as he was getting checked into the hospital.
Baskervill did not immediately respond to questions about the incident from Fox News Digital on Thursday.
In a press release on Thursday, she announced the additional charges against the hospital employees: Darian M. Blackwell, 23, of Petersburg; Wavie L. Jones, 34, of Chesterfield; and Sadarius D. Williams, 27, of North Dinwiddie. 
BLM CALLED OUT FOR RECEIVING MILLIONS, NOT HELPING BLACK AMERICANS: 'BLACK LIVES DON'T MATTER'
All three suspects were held without bond, and it was not immediately clear if the three have attorneys who can speak on their behalf.
Krudys said hospital staff lacked urgency to help Otieno after deputies learned he was "lifeless and not breathing."
"And then you see people standing around with their hands in their pockets and looking away," he said. "And there's an appreciable period of time before any kind of rescue efforts are started."
Otieno, whose family is from Kenya, was a deeply loved and well-regarded young man, an aspiring musician who had been a well-known high school athlete in the area, Krudys has said.
Otieno's mother, Caroline Ouko, held a framed photo of her son, telling the press in attendance on Thursday that all she is left with now is goodness in his music because he is gone.
"I cannot be at his wedding," she said. "I'll never see a grandchild…because someone refused to help him. No one stood up to stop what was going on."
He was first taken into custody by law enforcement on March 3, according to Henrico County Police. The department said in a news release that officers responded to possibly burglary and came across Otieno before taking him into custody and transporting him to a hospital for evaluation.
While at the hospital, Otieno "became physically assaultive toward officers, who arrested him," police said, and took him to a Henrico Sheriff's Office jail where he was charged.
CLICK HERE TO GET THE FOX NEWS APP
On March 6, Otieno was taken to the Central State Hospital, located south of Richmond, to be admitted. 
Otieno's cause of death has not been released by the Office of the Chief Medical Examiner.
The Associated Press contributed to this report.